According to the automaker's sales chief, everything else coming down the pipeline will be electric
Article content
As the 2023 Acura Integra gets ready for its market launch in June 2022, it seems it's going to be known for more than the reissue of a famous nameplate. It looks like the Integra will be the last new vehicle Acura will make with a gasoline engine, as it plans to go all-electric in future.
Article content
We apologize, but this video has failed to load.
The 2023 Integra will be Acura's last all-new gas vehicle

Back to video
That's according to a report from Automotive News, from an interview with Emile Korkor, assistant vice-president of Acura national sales, who told the publication the Integra is meant to create a "loyal customer base as we build toward electrification."
The Integra nameplate was last used in 2006. The new Integra will be the first built in the U.S., based on the Honda Civic platform, and feature the model's first turbocharged Integra engine, a 1.5L four-cylinder making 200 horsepower and 192 lb-ft of torque. Offered only in front-wheel-drive, the hatchback will come with a continuously variable transmission (CVT) or a six-speed manual. In Canada, CVT-equipped versions will range from $34,350 to the A-Spec Package at $42,550. The manual transmission will be a no-charge option on the A-Spec.
Article content
More On This Topic
First Drive: 2023 Acura Integra

What is Past is Prologue: Honda teases styling of upcoming EV
Korkor told the magazine that, in the U.S., the six-speed will be in most of the Integra models offered, even though it's the priciest. The U.S. is a relatively large market for Acura fans, he said. He also said it's not likely the Integra will be electrified.
Acura hasn't officially released news that the Integra will be the last new gasoline vehicle, but in April of 2022, Honda released its global briefing on electrification and said that it plans to launch 30 EV models globally by 2030, with volume of more than two million vehicles per year.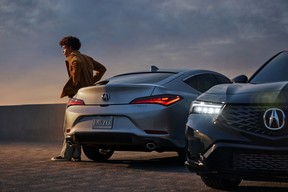 It also plans to produce all-solid-state batteries, and hopes to start "demonstration" production – a precursor to actual volume production – by the spring of 2024. In the meantime, it will work with partners to procure lithium-ion batteries in different regions, including buying Ultium batteries from General Motors in North America, and creating a joint venture company with other suppliers to produce batteries.
Article content
The company also said it plans to take a "multifaceted and multidimensional approach" and instead of the "mere replacing of engines with batteries"; and will offer a variety of solutions according to how customers use the products in various countries and regions, including offering swappable batteries and using hydrogen to power vehicles.
In 2024, Honda will introduce two mid- to full-size EVs in North America that it is jointly developing with GM. One will be the all-new Honda Prologue; the other will be a yet-unnamed Acura electric sport-utility. The company also said that through its alliance with GM, it will introduce "affordable EVs" in 2027 in North America, with "a cost and range that will be as competitive as gasoline-powered vehicles."